Rita1652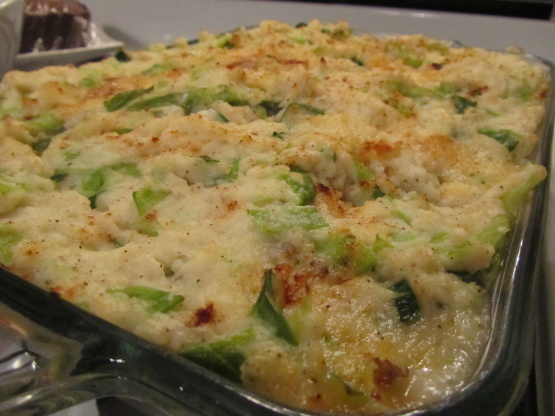 From the cookbook Food From Green Places: Vegetarian Recipes From Garden Hedgegrow. This is a very tasty recipe, as I just tried this today. So I am now passing it on to others to try as well. It doesn't say how much boiling water to use but I did use 1/4 cup of boiling water, plus it's not listed in the list of ingredients.

Super yummy! I have tried this before with limited toddler success--I don't know why I didn't think to shred the cabbage!! Great hint, great recipe. Thanks, Studentchef! Made for Veg Swap 35.
Drain the potatoes and dry them over the stove. Set aside.
Pour boiling water over spring onions in a small bowl to soften them (I used a quarter cup of boiling water). Drain and heat them gently witht he milk for 5-6 minutes.
Mash the potatoes and add the milk mixture.
Melt the butter or margerine in a pan and toss the shredded cabbage in it. Fold into the potato. Season generously.
You can either serve it as is (like I did), or fry it in butter, oil or dripping like a thick pancake until the outside is crusty, crisp and brown.