Colby Hash Browns Casserole
Prep 10 mins
Cook 45 mins

So good! Very simple to do, and they are better the day after too!!! Try em! Ready in 1 hour or less.
Directions
In a large bowl, combine the milk, broth, 1 tablespoon butter, salt, pepper and garlic powder.
Stir in hash browns.
Heat remaining butter in a large nonstick skillet.
Add hash brown mixture.
Cook and stir over medium heat until potatoes are heated through.
Stir in cheese.
Transfer to a greased shallow 2 quart baking dish.
Bake, uncovered, at 350° for 40-45 minutes or until potatoes are tender.
Most Helpful
What a super recipe! Easy to make when you get home, throw in the oven and you're done! I picked this because it didn't have the excess butter and sour cream (and cream of something soup) that all the other hash brown casserole recipes had. I halved the recipe and didn't use any milk (instead I used 3/4 cup vegetable broth for the beef broth and milk, and didn't add extra salt). We made this for two for a vegetarian dinner with a carrot side. It tasted great! We served with extra hot sauce, and I upped the pepper and garlic for 2 adults. As written, it's good for kids. BF wanted more, so I gave him some of mine (although he already got more than half). So it goes! I wish I had leftovers:( Will make this again:D Thanks cookin4my3boys!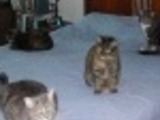 I like these more than the ones made with plain cheddar. The colby really makes a difference and makes it taste so much better.

This was very good - made it for a potluck brunch. I cooked the potatoes in the skillet until they started to brown & then moved them to the casserole dish & baked until it was golden brown & bubbly (40 min). I also added crumbled bacon when I added the cheese & next time if I do that I will leave out the salt (or decrease it).