Boomette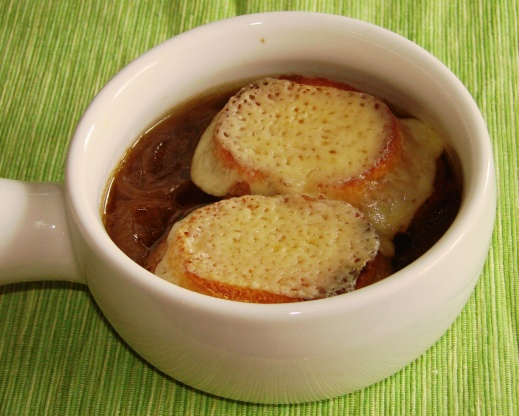 Leave this to my godchild to find a recipe with coke in one of our favorites.
I used 1 very large white onion that gave me 4 cups. I added more beef bouillon powder and a little bit of salt at the end. This soup has a great taste. But I can't taste the coke. Maybe that's a good thing ;) This soup is easy to do. I used gruyere cheese on top and it didn't want to brown like swiss cheese does. But it was great. Thanks Blue Rose :) Made for PAC Spring 2012
In a heavy saucepan, melt the butter/margarine. Add onions and cook until they are golden, do not brown.
Add the undiluted beef broth, 1 soup can of water, Coca-Cola, salt, vinegar, and pepper. If the beef taste is not quite there you might want to add some beef boulon to this. Cover and simmer 20 to 25 minutes.
In deep bowls add croutons, ladle soup and top with swiss cheese and sprinkel on Parmesan cheese.
Microwave for 25 seconds to melt cheese.
Makes 4 servings or about 6 cups.