Suzie M.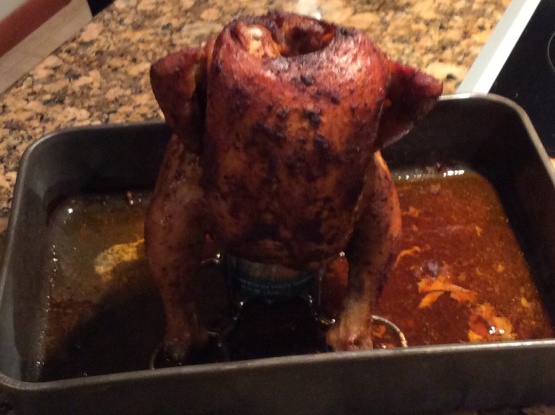 I found this recipe in the spring 2004 special edition of Southern Living Magazine. This makes the best tender and moist grilled chicken I have ever had and tastes alot like the rotisserie chicken you find in some restaurant's and deli's. We actually doubled the rub ingredients and used two chickens. We ate one and I froze the other. Try it. You will not be disappointed.
Using plain cool water, thoroughly wash chicken and dry.
Combine all ingredients for Barbeque Rub in a small bowl.
Rub oil over skin of chicken.
Sprinkle 1/2 tablespoon of Barbeque Rub inside the chicken body and neck cavity.
Rub 2 tablespoons of Barbeque Rub all over the chicken.
Try to get some rub under the skin where it is loose.
Pour out 3/4 cup of the cola and either drink it or discard it.
Pour remaining 1/2 tablespoon of rub into the cola can.
It may cause the cola to fizz, somewhat.
Holding chicken upright, place it onto the cola can, making sure the can fits deeply into the body cavity.
Pull the legs forward to form a tripod; this will allow the chicken to stand upright during cooking.
Refrigerate chicken and allow to marinate while you get your grill ready.
For charcoal grills: pile your hot coals around the perimeter of the grill leaving the middle open.
Place a drip pan in the middle of the grill.
For gas grills: use only one burner or side.
Place a drip pan on the unlit side.
Place chicken directly onto the drip pan and position it to stand upright.
Grill with lid closed for approximately 1 hour and 15 minutes or longer until meat thermometer register 180 degrees.
NOTE: I used a 4lb chicken and it took 1 1/2 hours.
Remove chicken from grill and let stand about 5 minutes.
Carefully remove cola can from cavity.
It will feel like it is stuck, but do not turn chicken on it's side as the hot cola will spill out.
I held the chicken on both sides and pulled it up while dh was holding onto the cola can.
This worked pretty well.