Coffee & Spices Sponge Cake
Katzen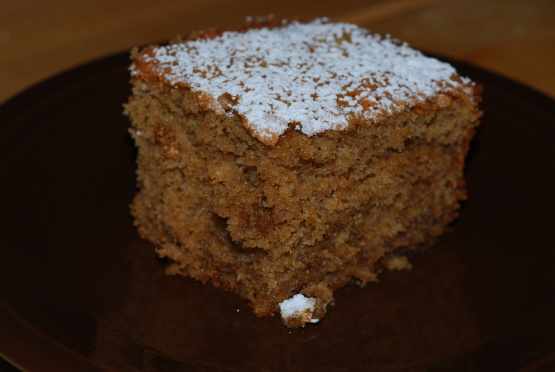 Sponge cakes are great and this one is no exception. Coffee, vanilla and spices, it doesn't get any better than this. Perfect served with ice cream or whipped cream. I have increased the amount of cinnamon, please use the amount that your family prefers.

Excellent cake. Whats not to love about spices coffee? when add you add cake to the formula it can't be anything but a winner. It has a rich coffee flavor without being overpowering. I may have upped the cinnamon just a touch (cough, doubled). I used 1/2 regular instant coffee and 1/2 espresso powder. Splenda replaced the sugar with no problem. When I saw the amount of batter I chose to use a single 9" cake pan which worked well. The cake doesn't need frosting but some no-sugar added ice cream didn't do it any harm *wink*. Thanks BK for another great recipe. Made for Santa's Secret in Photo Tag.
4

tablespoons ground coffee, Colombian
3⁄4 cup milk

1

cup flour, white

1

teaspoon baking powder
1⁄2 teaspoon salt

1 -2

teaspoon cinnamon, freshly ground
1⁄2 teaspoon nutmeg, freshly ground
1⁄4 teaspoon clove, freshly ground

3

eggs, large

1

cup sugar (vanilla or white)

1

teaspoon vanilla extract, pure
1⁄4 cup butter, salted, warm, melted
Combine coffee and milk in a saucepan and bring to a boil.
Steep over low heat for 10 minutes.
Strain into a measuring cup. T.
There should be 1/2 cup flavored milk.
Keep the milk warm on low heat.
Sift the flour, baking powder, salt, cinnamon, nutmeg and cloves, set aside until needed.
In a large bowl, beat the eggs for two minutes at high speed until thick, then slowly add the sugar and beat for 4 to 5 minutes longer until the mixture is very light.
Using a mixer on low speed, slowly beat in the flavored milk, just until blended.
Now beat in the vanilla and slowly fold in the flour mixture just until blended, making sure not too overbeat.
Lastly, fold in the melted butter, gently.
Pour into a greased and floured 8-inch round cake pan.
Bake in a preheated 350 degrees F oven for 20-25 minutes until cake tester inserted in center comes out clean.
Let cake cool for 10 minutes, then turn out onto a rack to cool completely, then frost with your favorite chocolate buttercream or coffee frosting.