KateL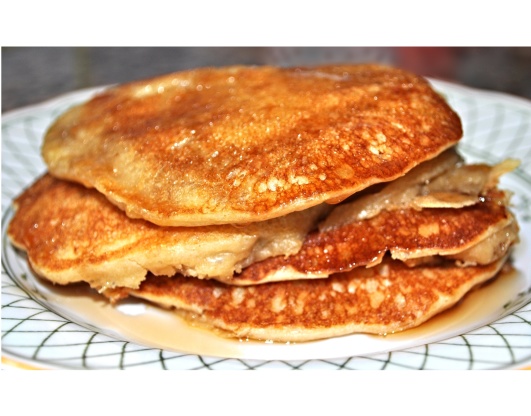 something different for breakfast.

Top Review by KateL
Winner! We made 16 pancakes out of this batter before surrendering the remainder. I gave the first 4 only about 1 Tablespoon per pancake and got petite pancakes. So the next 12 got 1 1/2 Tablespoons each, a medium-sized pancake. I used a shot of espresso in lieu of the instant coffee/water combination; the coffee taste was subtle. DH loved his with his usual maple syrup. I want to try these again with chocolate syrup, hmmm! We ate twice as many pancakes as we usually do, so you know these were great! Made for Spring Photo Tag.
Mix the instant coffee with 2 tablespoons of boiling water and set aside to cool.
Sift the flour, baking powder and bicarbonate of soda into a bowl. Add the sugar and a pinch of salt.
In separate bowl, use a wooden spoon to beat the egg, yoghurt, milk, butter and coffee until combined. Add to dry ingredients and stir gently to combine.
Heat a non-stick frypan over medium heat and brush with some of the extra melted butter. Working in batches, add 1 tablespoon of batter to the pan for each pancake. Cook until bubbles form on the surface, then turn and cook for a further 1 minute or until golden. Cover and keep warm while you repeat with remaining batter, brushing the pan with extra butter as needed.
Serve the pancakes in stacks with breakfast fruits and extra yoghurt.
Dust with icing sugar.