loof751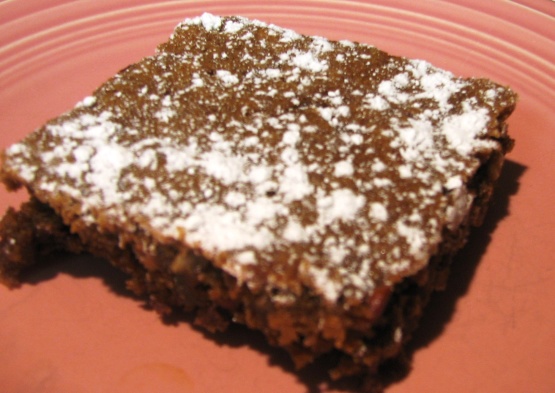 My mother gave me this recipe a long time ago. She has been making it forever. I believe she told me she got it off the back of a coffee jar. :) I usually double it and put in 9x9 to make thicker bars (longer cooking time so be sure to check it).

I didn't like them much.I am a coffee person but somehow these did not appeal to me.sorry!
Dissolve coffee in hot water; set aside. Put butter and sugars in mixing bowl and combine. Stir in egg and vanilla.
Sift in flour, baking powder, salt, and baking soda alternately with coffee.
Spread evenly into 8x8 pan. Bake at 350 for 25-30 minutes or until done.
Cool in pan then dust with powdered sugar. (I like to cover my pans not long after coming out of oven to keep the moisture in for chewiness). :).