I must admit, I have never eaten this pie as I do not like coffee but this is hubby's favorite dessert. Since the kids and I do not like coffee, he gets the whole pie for himself :) Cooking time does not include freezing time. Adapted from Simple & Delicious.
2 (1 ounce) unsweetened chocolate squares
1⁄4 cup butter, cubed
1 (5 ounce) can evaporated milk
1⁄2 cup sugar
1 pint coffee ice cream, softened
1 (8 inch) chocolate crumb crusts
1 (8 ounce) carton frozen whipped topping, thawed
1⁄4 cup chopped pecans
Directions
Melt chocolate and butter.
Stir in milk and sugar.
Bring to a boil, stirring constantly.
Cook and stir until thickened.
Remove from the heat and cool completely.
Spoon ice cream into crust.
Stir sauce and spread over ice cream.
Top with whipped topping and sprinkle with pecans.
Freeze until firm.
Remove from the freezer 15 minutes before serving.
Most Helpful
I love coffee flavored desserts and my husband told me last night that this is probably the best dessert I've ever made. I've never made chocolate sauce and thought I was in hot fudge heaven after a taste...yum! I liked this dessert because it didn't seem overly sweet. Thanks for the recipe I will definitely be making this again!
This was wonderful and super easy to boot! The fudge sauce was lovely, and everything came together nicely. I used chopped walnuts instead, but they were great. It tasted like an ice cream sundae in a pie! Will certainly make this again (and you can always use another flavor of ice cream if you don't like coffee). Made for Please Review My Recipe Tag Game.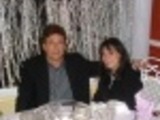 Congrats! You're recipe was featured on our homepage last Friday as the "Recipe of the Day" !
(7/05/11)