Coffee House Cookies (Pampered Chef)
Susang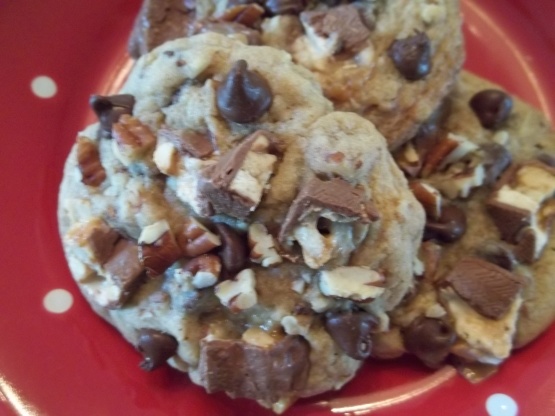 These cookies are packed full of chocolate, nuts, and chunks of your favorite candy bar! A great cookie to include on your holiday cookie tray, to give in gift baskets, or just a special treat anytime!

Top Review by Susang
My son works in an office full of women. Every two weeks I send him with homemade cookies. Tried this last week, they were a fabulous hit. I added the semi-sweet choc. chips and a coarsely chopped Hershey's milk choc. bar. On the top I also put chopped Snicker's bar, milk choc bar and pecans. I doubled the recipe and it made 24 large cookies. After years of baking on the best recipes, I will be making these for a long time. Taking them to my co-workers next.
1 1⁄2 cups all-purpose flour
1⁄2 teaspoon baking soda
1⁄4 teaspoon salt
3⁄4 cup packed brown sugar

1

large egg

1

teaspoon vanilla

1

cup coarsely chopped pecans, divided

1

cup semi-sweet semisweet chocolate chunk, divided

3 -4

ounces favorite chocolate candy bars (Snickers is my favorite! See Note)
Preheat oven to 350°F.
Combine flour, baking soda and salt and set aside.
In a large mixing bowl, beat butter and brown sugar until creamy.
Add egg and vanilla to creamed mixture; beat well.
Gradually add flour mixture to creamed mixture.
Stir in 2/3 cup pecans and 2/3 cup chocolate chucks into cookie dough.
Cut candy bars int small pieces and set aside.
Using a large scoop, drop dough onto stone or cookie sheet, about 3-inches apart.
(Cookies will spread when baking.) Flatten scoops slightly with palm of hand.
Lightly press a few pecan pieces, a few chocolate chucks and a few candy pieces into each cookie.
Bake for 14-16 minutes or until cookies are almost set.
(Centers will be soft, do not over bake.) Cook for 5 minutes on stone or cookies sheet.
Remove cookies to wire rack to cool completely.
~NOTE~Chocolate candy bars with nougat and nuts are favorite choices for this cookie.
Also delicious are chocolate covered peppermint patties, chocolate covered caramels and chocolate peanut butter cups.