Annacia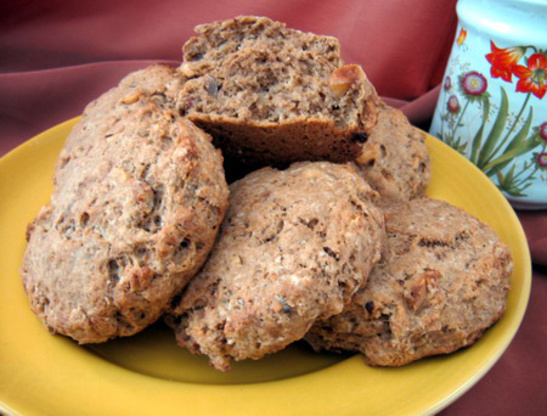 I found this recipe in Biscuits and Scones by Elizabeth Alston. It sounds really good and I hope to try it soon.

The texture of these scones is really outstanding. They are incredibly light and and have a great flakiness in the crust. I made a half recipe which wanted 1 1/4 cups of flour, I used 3/4 cup of whole wheat and 1/2 cup of white. For sugar I used 1 tbsp of Splenda Brown Blend and made up the rest with regular Splenda and I used a heart healthy margarine for the butter and skim milk. The coffee and hazelnuts are a great combo that I love. I did roast the raw nuts as per the recipe and it actually gave them a softer texture as well as a mellowness that is very enjoyable. Do use the best quality of instant coffee that you can here, the flavor does come through and this recipe is worth it. This is the first time I have made drop scones and they turned out very well indeed. Thanks for posting this Vic!
Heat oven to 350 degrees F.
Put hazelnuts in a baking pan with sides and bake for 15-20 minutes, shaking the pan once or twice, until the skins split and the nuts are lightly browned.
Pour the nuts into a dish towel; gather the towel around the nuts and rub them hard through the towel for a minute or so to loosen the skins.
Pick out the nuts and coarsely chop in a food processor or by hand with a chef's knife.
Turn oven up to 425 degrees F.
While the nuts are toasting, measure milk and stir in the instant coffee.
Put flour, baking powder and salt into a large bowl; stir to mix well.
Add butter and cut in with a pastry blender or rub in with your fingers until the mixture looks like fine granules.
Add sugar and hazelnuts; toss to distribute evenly.
Stir milk mixture; pour into the bowl and stir with a wooden spoon until a soft dough forms.
Scoop 1/4 cupfuls of dough and place about 2-inches apart onto an ungreased cookie sheet.
Bake about 15 minutes or until the dough colors but does not get dark brown.
Put scones on a dish towel on a wire rack; cover loosely with the cloth and let cool 1 to 2 hours before serving.