Coffee Granita a La Orange
Pneuma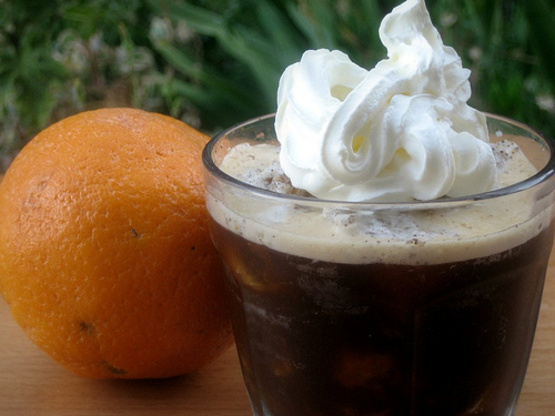 A granita is, essentially, an Italian ice, coffee flavored, in this particular case. On the richness scale, it's on the opposite end of the spectrum from ice cream since it contains no eggs or cream. A bit of sugar, yes, but in modest proportion. The method for making a granita is decidedly low tech: you simply stir the liquid periodically as it freezes, resulting in the granita's granular texture; the word, by the way, comes from the Italian grana, meaning grainy. I like to serve this as is, in small chilled bowls or cups, but it is frequently served with a dab of lightly sweetened whipped cream. Put a plate of biscotti on the table, fresh hot coffee too, and you have the perfect dessert.
In a medium-size bowl, stir the hot coffee, sugar, and orange zest until the sugar dissolves.
Cool.
Stir in the vanilla.
Transfer the liquid to a shallow bottomed bowl or square metal cake pan and place in the freezer.
Wait about 30 to 40 minutes, until the sides start to freeze, then stir the mixture gently with a wooden spoon, especially around the edges.
Put the granita back in the freezer and repeat the stirring every 20 to 30 minutes, until the mixture is grainy-frozen.
Transfer to well-chilled bowls – the chilled bowls are important, especially in summer, to prevent it from melting; in fact, chill your spoons too.
Serve, garnished with whipped cream if desired.