Prep 10 mins
Cook 1 hr 15 mins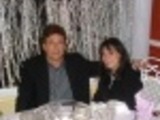 Coffee is a great way to enhance a host of savory dishes. I have yet to try this, but am eager to do so. From Good Food Magazine, January 1988.
Directions
Heat oven to 350 degrees.
Trim all fat from ham. Place ham on rack in roasting pan and bake 30 minutes.
Dissolve espresso in hot water in 2-cup measure. Add remaining ingredients and stir to blend. Baste ham with coffee mixture and continue to bake for 45 minutes, basting every 10-15 minutes.
Let stand 5-10 minutes, then cut into thin slices and serve.
Reviews
Most Helpful
I have made this several times over the last year or more, and it's an excellent recipe. I don't use the 5# ham, as it's too much, except when company is present. I use ham steaks and the electric skillet. My family loves it, too.