Ms. B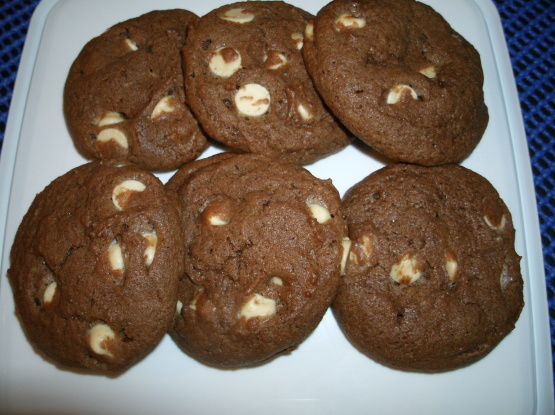 If you like coffee you will like these coffee flavored cookies.

These were wonderful!! I served them at a gathering of women that included a prefessional caterer, a banquet and catering manager at a resort, and a professional pastry chef (gee, no pressure THERE!) They all asked for the recipe and complemented the flavor and texture. What a great complement!
Preheat oven to 300 degrees F (150 degrees C).
In a small bowl, dissolve instant coffee crystals into the coffee liqueur; set aside.
In a large bowl, cream together the butter, brown sugar, and white sugar.
Gradually add eggs and coffee mixture while mixing.
Sift together the flour,cocoa,baking soda,and salt,Stir into the creamed mixture.
Finally, stir in the chocolate chips.
Drop dough by rounded tablespoonfuls onto a cookie sheet.
Cookies should be at least 2 inches apart.
Bake for 23 to 25 minutes.
Immediately transfer cookies to cooling rack after baking.
These keep well at room temperature or refrigerated.