Coffee Chocolate Chip Biscotti (Diabetic Adaptations Given)
Kim127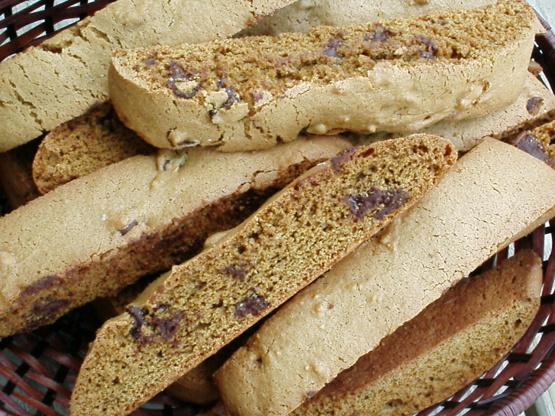 A treat with afternoon coffee, these double-baked cookies are crunchy and just right for dipping in a creamy latte!

I was a little disappointed that the coffee flavor didn't come through a little stronger, but they were very good. I had some trouble with the serrated knife tearing up the cookies, so I used a sharp chopping knife and that worked a lot better. I'll be making these again, but I may use an extract or something to enhance the coffee flavor. I tried it a second time substituting cinnamon chips and they were also delicious. I got tons of compliments on both, and they disappeared fast. I guess the coffee not coming through doesn't matter. I also learned that if your cookies start losing their crunch, you can put them in the oven on low for 10 minutes or so and it will dry them back out.
PREHEAT oven to 350°F Grease baking sheet; cover with parchment paper.
COMBINE water and coffee granules in small bowl; stir until coffee is dissolved.
COMBINE flour, baking powder and baking soda in small bowl.
WHISK together eggs, sugar, vanilla extract and salt in large bowl. Whisk in oil and coffee mixture. Stir in morsels. Stir in flour mixture just until combined. Cut dough in half; place each portion onto prepared baking sheet. Using floured hands, quickly stretch dough to form two flattened logs.
BAKE for 15 to 20 minutes or until set and almost firm. Let cool to room temperature.
CUT logs into 1-inch-thick slices using serrated knife. Lay slices on prepared baking sheet, cut-side-down and about 1 inch apart.
BAKE, turning each slice over halfway through, for 15 minutes or until biscotti are slightly toasted and crisp. Let cool slightly on baking sheet; remove to wire rack to cool completely.