Prep 20 mins
Cook 50 mins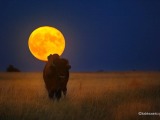 This is my version of coffee cake I hope you enjoy! There are so many here to choose from, so I will just add to the choices!
Directions
For the topping: Cream butter, brown sugar and cinnamon together.
Stir in pecans, raisins and chocolate pieces, and mix well then set aside.
For the cake: Cream shortening.
Add sugar, beating until light.
Add vanilla.
Beat in eggs, one at a time, beating well after each egg.
Sift together the flour, baking soda and baking powder.
Stir in flour mixture alternately with sour cream, beating well after each addition.
Place 1/2 of the batter mixture into a greased and lined (bottom) 10 inch tube pan.
Sprinkle with 1/2 of the topping mixture, then add second 1/2 of batter mixture and sprinkle the top evenly with the remaining topping.
Bake at 350 deg.
for 50 minutes until tester comes out clean.
Cool on a rack in the pan, and when cool invert onto a plate to serve.
Reviews
Most Helpful
Definately 5 stars for this!A great tasting,easy cake to make.I toasted the pecans before I chopped them for extra flavour.I think next time I would omit the raisins though,or just have them in the middle layer.I found the ones on top got too dry and chewy.I used margarine instead of shortening also.Thanks for the great recipe!
wow! i have this cake on a recipe card from My Recipes(tm). i've been making your same cake since 1990. it's my absolute favorite! try changing up the fruits and nuts. i like dried cherries, pineapple, pecans, with or without the chocolate. the only thing missing is the use of waxed paper for the lining.
Turned out wonderful! I didn't have a tube pan so I used a 9" loaf pan...needed couple extra minutes to bake... yummy goodness... thank u for posting!