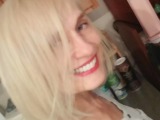 This is from a Quaker Oats recipe pamphlet titled Food Fiber & Fitness. It states in its introduction, "It's smooth and creamy like a shake, but weighs in at a lean 85 calories." I think the oats give it a malted quality (taste and texture) while the hint of coffee adds an adult element. I think it's a nice breakfast drink that two people on the go can easily share.
Directions
In a blender (I use the Magic Bullet), blend oats about 1 minute, stirring occasionally (using the Magic Bullet, I don't need to stir it).
Add remaining ingredients; blend on high speed about 1 minute or until smooth.
Reviews
Most Helpful
Made for a night time snack when I wanted a coffee "something". Used unsweetened coconut milk (what I had) Not bad!! I would just have to say that since I like things sweet I definitely had to add sweetener. Used Sugar free maple syrup (a bit of it) I would also up the coffee a little next time. Over all good idea!

Nice quick breakfast when you are on the run. Made as written and agreeing with other reviewers do need to increase the coffee powder just a little. Also agree with the description that the oats give it a malt flavor. Thanks so much for the quick and easy breakfast for those of use on the run.

Nice smoothe taste. For my personal preference, I agree with previous reviews in that I will add more coffee in the future and I think possibly even a fine espresso would be good for coffee lovers. The "grinding" of the oats may be best done with a coffee mill or spice grinder. The blender still left a few larger pieces. Overall, I really like the simplicity and smooth flavor. Thanks for sharing. ~Buddha