diner524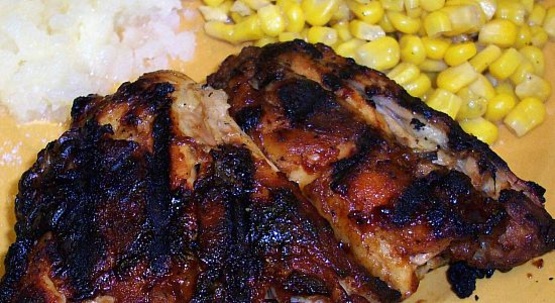 An easy to make tasty barbecue sauce made with cold coffee. It keeps well for a long time in a glass jar in refrigerator. Use as a sauce for precooked chicken wings or ribs in the oven. Or cook raw wings as directed below. Sauce can also be used for pork chops or spareribs or any recipe calling for barbecue sauce. Easy to make with readily available ingredients. A good way to use up leftover coffee. Time given is to make the sauce only and the yield is an estimate.
This is a nice and tangy bbq sauce from the lemon juice and vinegar. I made half the recipe and made it with 2 chicken thighs that I grilled for dinner. Would love to try this again but add in salt, pepper, garlic and a little hot sauce. Thanks for sharing foodtvfan. Made for comfort cafe event.
Place all sauce ingredients in a saucepan.
Bring to a full boil; reduce heat to simmer and cook for 5 to 10 minutes, stirring occasionally.
TO COOK RAW CHICKEN WINGS:.
Pour sauce over raw wings.
Bake for 1 or 2 hours at 350 degrees Fahrenheit until done, basting occasionally.