Cod With Orange and Onion
Derf2440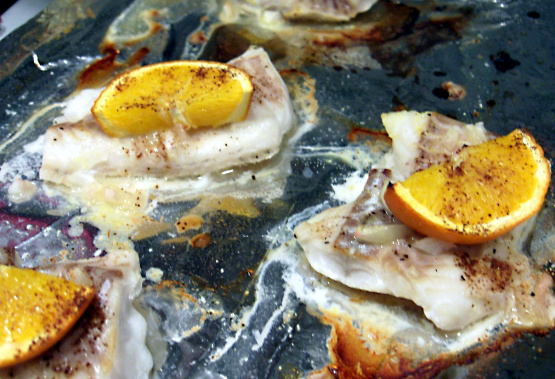 My husband just created this one tonight, and it was excellent. So I am posting this here so that we don't forget it, and so that others will enjoy it. This fits nicely into the WW Core Program and is very healthy. And the presentation on this is lovely. It would be great for guests.

Sorry, I didn't have any whole cloves, so I used powdered cloves, it seemed to work but didn't look as pretty as it would have with whole, also had to use regular chopped onion. The flavours were quite subtle. Another time I think I would add some orange zest to bring out more flavour. Thanks for sharing a good one.
Preheat the oven to 350 degrees.
Slice the orange into approximately 1/8 inch slices. Cut 4 of the slices in half.
Using the other remaining slices, rub the top of the fish fillets with orange. Discard those orange slices.
Place the fish fillets on a baking sheet.
Slice the green onion, green part only. Scatter the green onion evenly on each fish fillet.
Place 2 of the slices on each fish fillet, on top of the onion. Fasten the oranges to the fish with cloves. (One clove for each orange slice.).
Bake at 350 degrees for 15 minutes of until the fish flakes easily.
Serve the fish as is, but I don't recommend eating the orange.