Bergy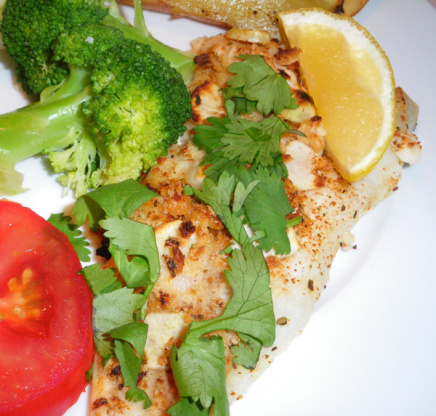 I needed a quick recipe for dinner that used the cod I have in my freezer. There were none on Recipezaar! So I'm posting this one from MealMaster via RecipeSource.

Top Review by Bergy
I used Blue Cod for this recipe and it is not as flavorful as regular cod so the garlic was perfect with it. Instead of using butter or margerine I used a no-oil spray so the fish wouldn't stick to the broiler pan. I placed thin sliced garlic right on the fish rather than frying it, along with the lemon juice. Because I love spice I sprinkled a tsp of Cajum spice on the fish. The cilantro is a nice finishing touch of flavor
Fillets should be cut to make 8 servings.
Place the fish fillets on a rack in a broiler pan.
In a small pan cook and stir the garlic in the margarine and oil until golden brown, (DO NOT overcook). Remove garlic and set aside.
Drizzle the margarine mixture and lemon juice over the fillets then sprinkle with the salt.
Set oven control to broil. Broil the fish with the tops of the fillets about 3-inches from the heat until the fillets flake easily with a fork, about 10 to 12 minutes.
Sprinkle with the reserved garlic and cilantro. Serve with lemon wedges, if desired.