Cod Roasted with Fresh Herbs
Derf2440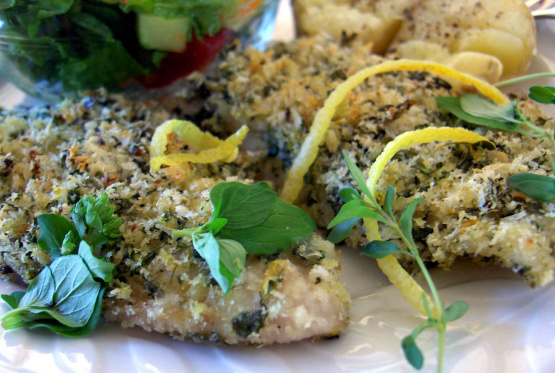 Cod is one of my favorite fish, and we get such wonderful, fresh and inexpensive cod here in Rhode Island. I think the touch of lemon zest in the crust adds a nice lemony flavor mixed in with the breadcrumbs.

We aren't big fish fans, but we decided to give this recipe a chance anyway. I think it turned out pretty well. However, it wasn't our cup of tea. I don't think the fact that we didn't enjoy this recipe was reflective of the recipe itself, but rather the fact that we don't particularly like fish.
Preheat oven to 400 degrees.
Place bread crumbs in a shallow dish.
Pile parsley, garlic, lemon zest, and a little salt on the cutting board.
Finely chop the parsley, garlic, lemon zest, and a little salt, then add mixture to the plain bread crumbs.
Brush the top of each fillet with olive oil and dip in to the bread crumb herb mixture.
You can be a little generous here with the crumbs.
Brush a little bit of olive oil in the bottom of a baking pan then place fillet in the pan, crust side up.
Roast fillets in oven, about 12-15 minutes or until firm to the touch.