Carlamo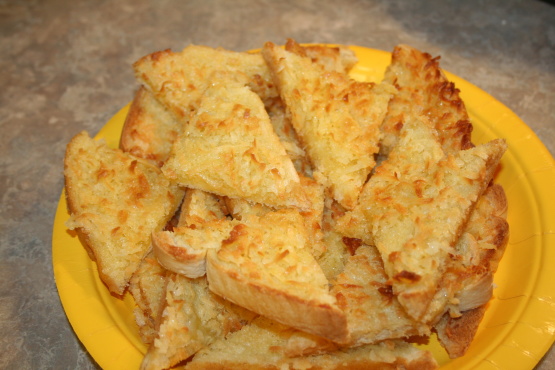 So simple, but so good! My kids (18 and 12) loved it. Should be on a Hawaiian breafast buffet! Served ours with some cheesy scrambled eggs and oj. From the mr.breakfast.com collection.

This toast is amazing! Made it tonight to go along with bourbon chicken. Hubby couldn't eat dinner because he ate so many of these he got full lol. Kids loved em to. Directions were spot on. Will def make this again. Thank you for posting a great recipe.
In bowl combine coconut, sugar, butter, egg and vanilla.
Mix well.
Spread over each slice of bread.
Place on ungreased baking sheet.
Bake at 350 F for 15-20 minutes.
At end, broil for just a moment to brown the coconut slightly.