Coconut Tapioca Pudding (Rice Cooker)
duonyte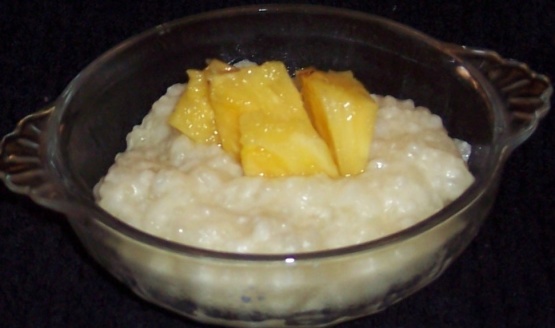 For rice cookers with a porridge cycle. This is a delicious, creamy pudding, with the luscious taste of coconut. Tapioca pearls cook to perfection in the rice cooker. Try topping with sliced or chopped tropical fruit - mango, pineapple, banana, papaya. Recipe can be halved for 3-cup cooker. From the Ultimate Rice Cooker Cookbook. Guessing on cooktime.

Duonyte, thank you for posting this recipe and making the edited Note. I'd tried it once and didn't review it because our results were not good. I used the only pearl tapioca I was able to find, but clearly, it was too large. I ran it through two porridge cycles and almost double the amount of coconut milk, and the pearls were still really tough and just plain hard in the middle. When I read your added note, and used the very very tiny tapioca, the results were perfect. We'll be making this often during the winter months! I can't wait, the flavor is incredibly wonderful.
Place all ingredients except vanilla in bowl of 6-cup rice cooker. Stir to combine. Close the cover and set for Porridge cycle.
Open the cover and stir briefly every 20 minutes, then close cover.
At end of cycle, carefully remove bowl from cooker. Stir in the vanilla. Pour into a large serving bowl or individual serving dishes.
Let cool. Serve warm, or refrigerate covered with plastic wrap.
Note: small pearl tapioca is about the size of sesame seeds; anything larger will take longer and require more liquid.