Rita~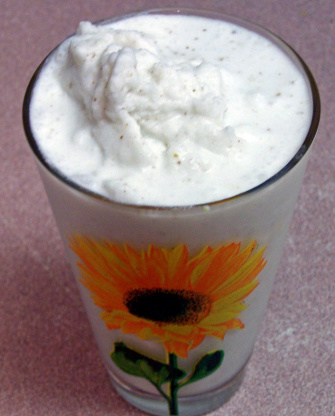 This is low carb with added protein.
I've made one similar to this but for one serving:
1/2 can coconut milk (can use light, but it's better with full fat),
2 to 3 Tbsp carob powder (cocoa if you can have it),
5 drops liquid stevia,
pinch of salt,
1/2 cup water,
6 ice cubes.
Add a 1/6 of a banana if you want it to taste like a Chocolate Monkey.

You can also add a hand full of spinach (can't taste it),
protein powder (I use goat milk protein powder as well)%u2013it does taste a bit chalky, but that's the nature of protein powders,
or a scoop of Vega (http://shopca.myvega.com/vega/Vega-Nutritional-Products/vega-energizing-smoothie-natural-pouch).
MCT oil would be good to add too.

It's like a chocolate milkshake but no sugar, not a tonne of calories and full of healthy fats.
BTW, fat doesn't make you fat, sugar and carbs make you fat (the reason why diets like Atkins work).
Place all ingredients in a blender on high speed until well combined.
You may add more or less ice, depending on how cold you like a smoothie.