Coconut Shrimp With Pineapple-Sweet Pepper Purée
Heirloom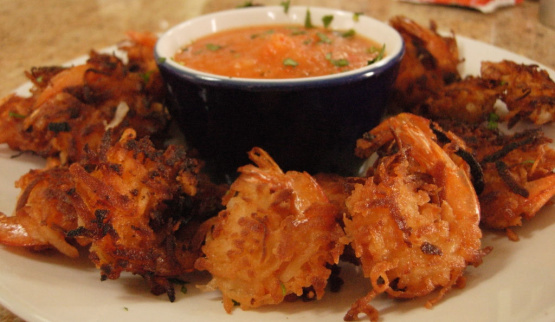 A simple, flavorful recipe for coconut shrimp with a non-fat pineapple and roasted sweet red pepper dipping purée.
For the Shrimp:.
In a small bowl beat egg and half-and-half together
In a separate bowl combine flour and coconut.
Coat shrimp in egg mixture, followed by pressing it into the coconut mixture until coated fully with shredded coconut.
In a small frying pan pour oil and heat.
Fry shrimp until golden brown, flipping after about 60 seconds.
For the Purée:.
Roast the pepper in a 400 degree F oven until the skin loosens and is blackened in areas.
Once cool enough to handle, peel skin, remove seeds and stem, and slice in half.
Reserve half the pepper for another use, and chop the remaining half finely.
In a saucepan using an immersion/stick blender, or in an upright blender, purée the pineapple, pepper, cilantro, mint, sugar, and cornstarch.
Heat over medium until hot, serve immediately.