momaphet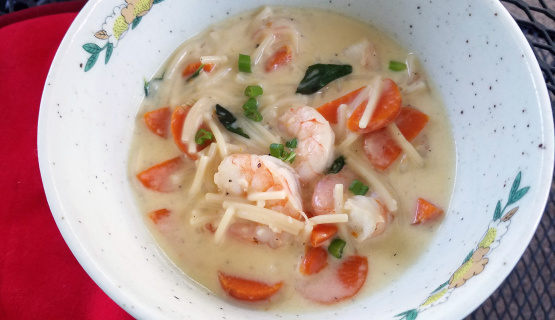 The source of this recipe is the Everyday Food magazine. It's slightly modified.

I think it's curious that the poster of this recipe describes it as Australian. To me, it seems it's influence is Thai. Anyway, I have made this following the recipe, which was very good as is, but I wound up altering it to suit my tastes the last couple times I made it. I must stress that the original recipe is delicious but I prefer more flavor. Heres what I have done if anyone's interested. I always use chicken broth instead of water. I also add 1 tablespoon of brown sugar (trust me on this) and a few squirts of fish sauce. At the end, I like to stir in a little torn fresh basil, which gives it a wonderful, bright flavor. Also, I have used chicken instead of shrimp, which is excellent as well.
Heat oil in a 3 qrt saucepan over medium-low heat. when the oil is hot, add ginger, garlic, and pepper flakes. Cook for 1 minute, stirring continually. Add carrots, coconut milk and 3 cups water.
Mix cornstarch and 2 tbsp water in a small bowl until smooth, and add to the pot. Bring the liquid to a boil.
Break pasta in half and add to the pot. Return the liquid to a boil and reduce heat. Simmer until pasta is al dente and carrots are tender (about 4 - 5 minutes).
Add shrimp to the pot, and stir until the shrimp is opaque (about a minute). Remove pot from the heat, and stir in lime juice and salt.
Garnish individual servings with scallions.