vrvrvr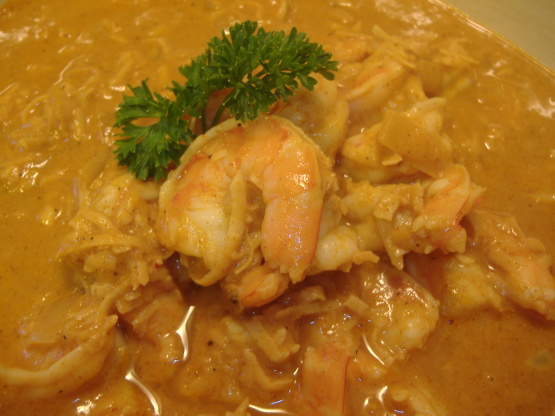 From "Faster, I'm Starving; 100 Dishes in 25 Minutes or Less" by Kevin and Nancy Mills. This is a new cookbook I found at my library and I wanted to post this before I return the book. This recipe calls for 1 lb. cooked or raw shrimp. Note: sweetened coconut is found near the chocolate chips at the market in the baking isle and unsweetened coconut may be available in the Asian food isle, either works with this recipe.

Top Review by vrvrvr
Wonderful flavor, straight-forward prep. A couple comments from around the table suggested there was too much "crunch" (i.e., onions and coconut) so the texture was slightly off-putting to a couple. However, the spices came together along with the coconut and sour cream to create a yummy, subtle shrimp curry that we enjoyed over brown rice, with sides of sauteed fresh spinach and corn on the cob. Very delicious!
Peel the onion and cut into 1/2" pieces. Put oil in a wok or large frying pan and begin heating over medium-high heat. Add the onion and cook about 5 minutes, stirring occasionally, or umtil the onion begins to soften.
Add the garlic, coriander, cumin, turmeric, cinnamon, chili powder, ginger, salt and black pepper and stir until the spices have dissolved. Add the water, tomato sauce and coconut and bring to a boil. Turn down to medium heat and cook, covered, about 5 minutes.
Add the shrimp. If the shrimp are uncooked, cook about 3 minutes, or until they are pink and just begin to curl. Then add the sour cream. If the shrimp are cooked, add them and quickly stir in the sour cream. Continue to heat until hot.
Serve immediately or set aside until ready to eat and then reheat breifly.