Coconut Rum Brown Rice Custard
Derf2440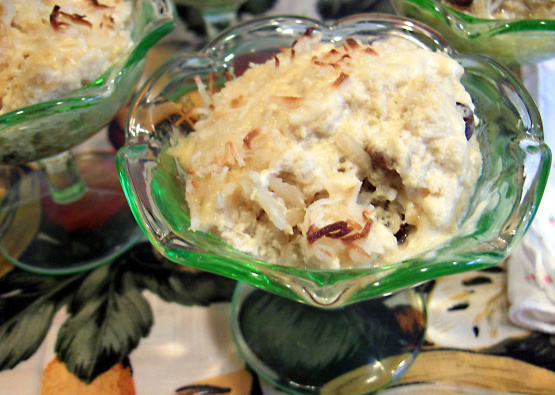 This is divine! Submitted for the 2006 RSP

I've been wanting to try this rice pudding for a while and I'm so glad I finally got around to making it! It's sensational! Much more complex than your average rice pudding - the various ingredients complemented each other perfectly and I loved the hint of rum that came through. Baked it for the lesser amount of time as we all like our rice pudding very cream and it was perfect. The topping is decadent. Sadly, this recipe was overlooked for RSC 7 - if more people had tried it, I think we may have had another winner!
Preheat oven to 350F degrees.
Combine in a bowl, cooked rice, brown sugar, salt, raisins, fine coconut, dark rum and vanilla.
Stir to mix well.
Let stand for 30 minutes, mixing occasionally.
Meanwhile, whisk together, milk, sour cream and eggs, when the rice is ready; pour milk mix over the rice mix; mix well.
Butter a 4 to 6 cup casserole, pour rice/milk mix into casserole and stir well to mix.
Bake custard in oven for 35 to 45 minutes, depending on how dry you want it.
Stir once after 15 minutes.
Spread topping and sprinkle with shredded coconut.
Topping:.
Whisk together sour cream, rum and brown sugar. Spread over the top of the hot rice custard, sprinkle shredded coconut evenly over. Set casserole about 6 inches under the broiler for about 2 minutes until the shredded coconut is golden; watch closely that it doesn't burn.
Serve warm or ice cold with a dollop of sour cream on top.