PaulaG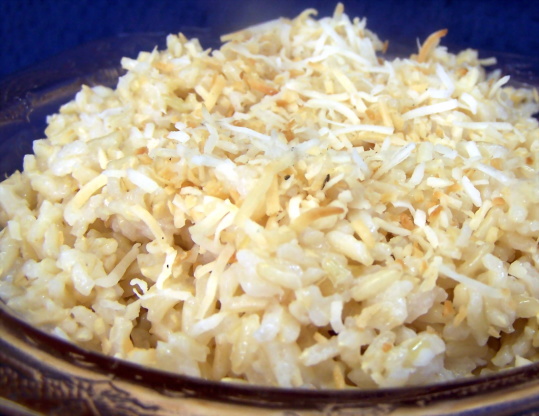 An easy and memorable side dish for chicken, arepas and grilled fish.You can get unsweetened coconut at Indian or specialty grocers.

The flavor was good but I may have overcooked it a bit as I found the rice a bit dry but then that may just be the way basmati rice is. Thanks for the recipe I'll try it again.
Combine all ingredients, except coconut, bring to boil, cover, and simmer low, stirring occasionally until rice is almost done (about 10 mins).
Remove from heat and remove pan cover, stir rice.
Fold a kitchen towel in half and place over pan, then place the pan cover over the towel.
Let "rest" for 15 minutes.
To serve, fluff rice with a fork and pour into a serving bowl, garnish with toasted coconut.
*Put the coconut in a dry frying pan and over medium heat, stir constantly until the coconut is browned, but be watchful, the coconut browns quickly, then burns fast.