awalde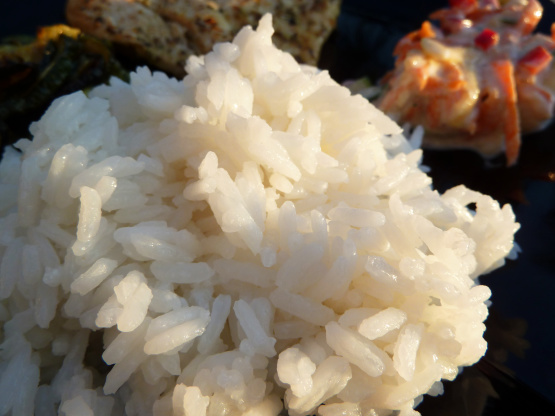 If you like coconut rice, this is an easy way to prepare Samoan coconut rice. You can use leftover rice as well ! Posted for ZWT7.

I made this to go with Sticky Chicken Drumsticks made with hot chili sauce, and this was the perfect rice to contrast with the heat from the chicken. I used leftover rice, and the directions for using leftover rice worked out perfectly. Thanks for sharing! Made for Newest Tag.
Wash the rice as usually.
Join rice and cold water in a pot and bring to boil. At this point reduce the heat to minimum and leave to cook thghltly covered for about 15-20 minutes until rice is adsorbed and rice through.
Turn off the heat.
Now add coconut milk and salt and stir well. Let sit for other 15 minutes and serve.
Note: For more coconut flavor, you can top it with roasted coconut or with fresh coconut.
Note: Rice leftovers? Mix toghether cooked rice and coconut milk (1 cup coconut milk each 4 cups cooked rice), heat gently stirring continuously until hot, remove from heat and let sit 5 more minutes before severving.