HisPixie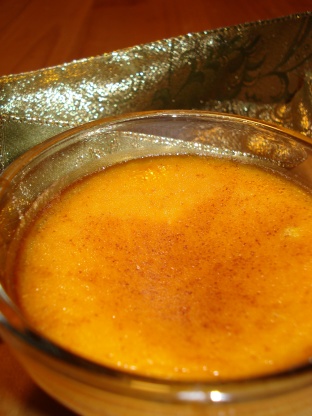 Adapted from Taste of Thai - Mmmmm custard! Easy elegant & So yum - I love custard!

Oh this is quite good. I've never used a water bath before and I think my "hot water" wasn't hot enough as this took a lot longer to cook than instructed. I quite enjoyed it and my daughter is eating a cup right now...she said it's very good but maybe needs a little kick, maybe more cinnamon. Made for "My Three Chefs" Fall 2008.
Preheat oven to 350°F.
Mix 1/3 cup sugar & 1/2 teaspoon cinnamon - then set aside.
Beat Coconut Milk, pumpkin, sugar, eggs, salt, extract and nutmeg until well mixed. Fill 6 custard cups with 2/3 cup of pumpkin mixture.
Lightly sprinkle top with cinnamon sugar.
Make a water bath by filling a 9" x 13" baking dish with 4 cups of hot water. Place each filled custard cup in baking dish. Make sure water comes to level of custard.
Bake for 35 - 40 minutes, or until a knife inserted near the center of the custard comes out clean.
Chill custard at least 2 hours or overnight.
Before serving - sprinkle each custard with a teaspoon of sugar. Melt sugar with a torch or under a broiler until just golden.