sha1col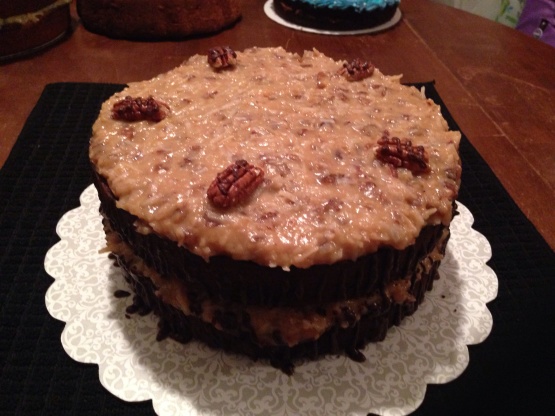 Top a chocolate cake with this rich German frosting! Posted for tour 2005 from mikibone.com

I used sweetened condensed milk and I grated by hand a whole fresh coconut ( only needed 3/4 of that fresh coconut , what a workout ! ) and added a tsp of cornstarch . This recipe turned out perfect except too sweet for me . I think even if I would of used only the evaporated milk unsweetened it still would of tasted to me too sugary with this recipe calling for 1 1/2 cups sugar, and believe me I am not a sugar wimp , I'm a sugaraholic ! So I did the unthinkable I scraped all the frosting off the finished cake and put in a metal mesh colander and rinsed in hot tap water to wash off all the sugar then I baked my rinsed pecans and coconut to dry the water off of it and start from scratch again . I decided the sugar Amt is too much for my liking and I know u need it for the Caramelised taste so I decided to make a different frosting so I tweaked my own for my taste , 1 cup evaporated milk , 1/3 cup sugar, 2 tsps cornstarch, 3 egg yolks no egg whites, 1/2 cup butter , 1 tsp vanilla , 7 oz unsweetened coconut, 1 1/2 cups chopped pecans . Maybe this tastes more like custard frosting but it still turned out same consistency , just tasted more like coconut pecan to me without the overpowering sugar taste that makes u have a sugar rush . I still gave rita 5 stars for the cake is perfect without tweaking .
Mix milk, sugar, butter, egg yolks and vanilla in a large saucepan. Cook and stir on medium heat about 12 minutes or until thickened and golden brown.
Remove from heat and stir in coconut and pecans.
Cool to room temperature and of spreading consistency.