Boomette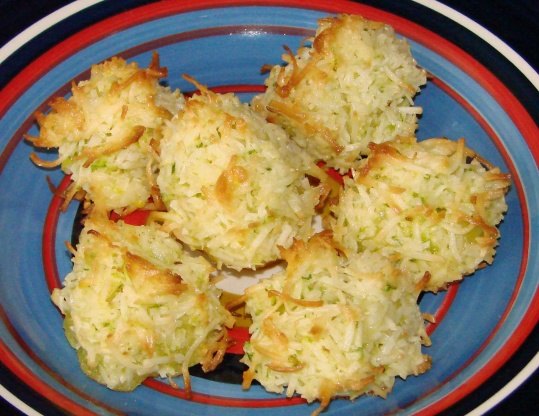 A delightful and easy cookie; recipe is from Denmark. The recipe makes 30 small or 20 large peaks. I strongly recommend that you add the extra step of dipping in chocolate as it gives the cookie that extra dimension and wow factor. I add a bit of butter to the melted chocolate and drip it on top of the peaks. I have updated the recipe measurements thanks to Hokies' hard work - the conversion from metric to cups did not work out, too much of some ingredients, too little of others. The current recipe reflects the accurate measurements after have scaled ingredients and cross checked cup measurements.

Top Review by Nif_H
Yummy! I made these in no time and loved that there were so few ingredients. I think that I would use unsweetened coconut the next time. Also, I didn't have lemon or lime zest so I used a splash of lemon juice. It actually made the cookies a little bit runny so I wouldn't do that next time! These are great and I made 16 of them. Made for Went To The Market tag game. Thanks Deantini! :)
Preheat oven to 350°F.
Melt butter.
In a bowl mix egg and sugar. Add coconut, lime peel and melted butter.
Let the mixture set for 10 minute.
Form the peaks using 2 spoons (or one spoon and fingers) and place peaks on a cookie sheet lined with parchment paper.
Large peaks - bake for approx 10-11 min or until golden.
Small peaks - bake for approx 7-8 min or until golden.
If using - melt chocolate of your choice and dip bottoms of the peaks and let cool or drizzle chocolate on top of peaks.