lets.eat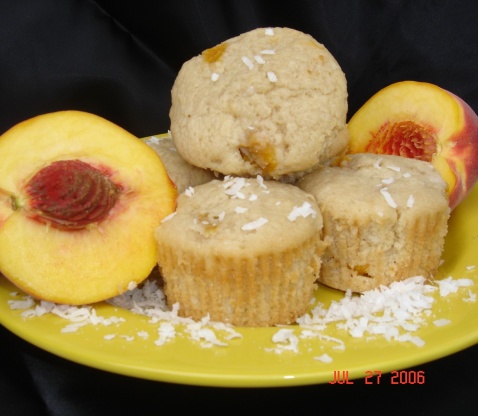 A yummy tropical-tasting treat!

I won't rate these seeing as I made so many changes to "healthy them up", but I found the combination of peaches and coconut to be lovely! I used non-fat vanilla yoghurt instead of the butter, whole-wheat flour instead of the white, and low-fat dessicated coconut. I also cut the sugar to 1/3 of a cup, used weight-watchers canned peaches and added some of the juice from the can to balance out the dryness of the whole-wheat flour. Even with all these changes, they were excellent (though some people would think they weren't sweet enough). The only problem I had was that they stuck really, really badly to the paper muffin liners. I also found they tasted much better the second day. Thanks Roosie!
Preheat oven to 400* F.
Grease or line muffin tins.
Heat water, butter and sugar in a saucepan until the sugar is dissolved.
Set aside.
Mix milk, vanilla extract, egg and peaches.
Set aside.
Mix flour, coconut and baking powder.
Make a well in the center of the mixture.
Pour peach mixture into the well of the flour mixture.
Mix lightly.
Pour in butter mixture.
Mix until just combined.
Fill greased or lined muffin tins 3/4 full.
Sprinkle top with coconut, if desired.
Bake 15-20 minutes, or until a toothpick inserted in the center comes out clean.
Enjoy!