Coconut Oil Roasted Sweet Potatoes
Using virgin coconut oil in this recipe enhances the flavor of the sweet potatoes, while infusing a subtle perfume of coconut to them. Virgin coconut oil is found in most health food stores. Adapted from Melissa Clark, NY Times.
Directions
Preheat oven to 350 degrees F.
In a small saucepan, melt coconut oil over low heat.
In a large bowl, toss together, the potatoes, coconut oil, sugar, salt, pepper, and nutmeg.
In a large baking dish, spread the potatoes out evenly and roast, tossing occasionally, until softened and caramelized, about an hour.
Most Helpful
Biggest problem is when I make these a can't stop eating them. I add minced garlic a heaping tablespoon, cause I love garlic, sliced Spanish onion, and a good teaspoon of cinnamon. I skipped the sugar, I find it is sweet enough without sugar.I forgot the nutmeg, but will try it next time. I used a blend of olive oil and coconut oil. 1-2 ratio. It baked in 40 min, took it out of oven and added chopped fresh parsley. its in a bowl on the stove top, probably wont be any left before dinner even starts.
I really enjoyed this sweet potatoes;my first time preparing these. Coconut oil is so good.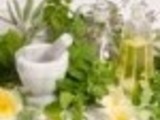 What a terrific recipe threeovens. We really enjoyed these tasty sweet potatoes. I loved the flavor created by the coconut oil and nutmeg. They were slightly sweet, with a lovely caramelized crust, nothing was overpowering and you could taste all the ingredients. Quick and easy to make, they have gone into my keeper box. Thanks for sharing your recipe.