soxfan28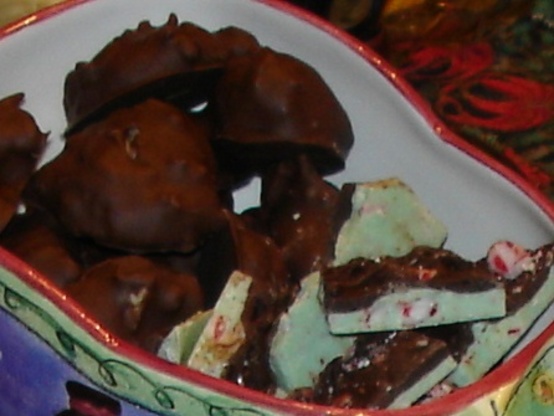 My DH always gets a container of these every year during the holidays from one of the ladies in the office at one of his clients. I asked him to get the recipe from her and now I have it. OH! I love them! Thought I would share the recipe too.
1

cup margarine

1

(14 ounce) can Eagle Brand Condensed Milk

1

(14 ounce) bagmounds coconut

2

lbs powdered sugar

1

cup almonds, chopped finely

2

(12 ounce) bagsnestle's milk chocolate chips

2

tablespoons shortening
In a medium to large pot, melt the butter.
Add Eagle Brand milk and stir well.
Remove from heat and add coconut,almonds and powdered sugar. Stir well.
Let cool down 15 minutes; shape into small to medium balls.
Place on a lightly greased pan and put in freezer for 30 minutes to harden.
After 30 minutes or the balls have harden, remove from freezer and set aside.
Melt shortening in pan and add chocolate chips. Stir until chips melts or until smooth.
Dip balls in chocolate and place on wax paper and allow to set up.