Annacia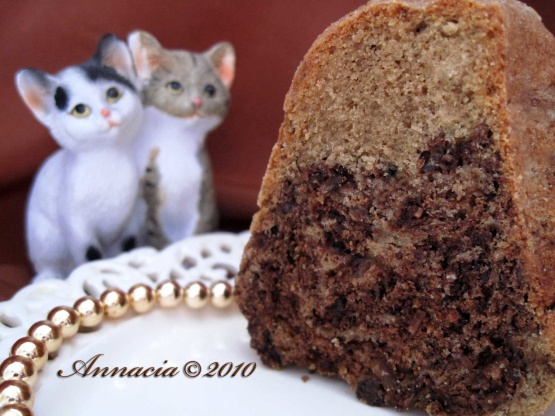 I love this special cake. We eat it plain or with ice cream or with a little powdered sugar ontop. This is wonderful when served with a nice cup of hot java or espresso. I hope that you will enjoy this treat.

Let me start of be saying that DH is sending you kisses as I type! With the exception of using all Splenda for the sugar and skipping the powdered sugar I made this as directed down the line. I was a bit concerned at one point because the batter was closer to a soft dough than a cake batter but I forged ahead and, wow, what a result! It rose so much that I had to cut the top (bottom?) off even with the pan so that it would sit nicely on a plate. The texture is amazing it's really hard to describe but something like tender, soft, smooth and flaky might fit, lol. I just had to sample some of the cut away top and it's nothing short fabulous, I love that it's not overly sweet even with 2 cups of Splenda. This is a special cake and the only thing I would do differently next time would be to grease the pan super well and skip flouring it. Outstanding recipe. Made for Photo Tag.
Preheat oven to 350 degrees.
Grease and flour a 10-inch Bundt pan.
Melt chocolate over a very low heat and set aside.
In a small bowl, combine the flour, baking powder and baking soda.
Next beat together butter, sugar, eggs and instant coffee for 1 minute, on medium speed.
Next mix in in flour mixture and buttermilk alternating 3xs, on low speed until just combined.
In a small bowl, combine the melted chocolate, toasted coconut and 2 cups of batter, mix and set aside.
Pour 1/2 of the remaining plain batter into the prepared pan.
Next spoon the chocolate batter ontop of the plain batter.
Pour remaining plain batter over the chocolate batter and run a knife thru the layers to gently create a swirling effect.
Bake 45 - 50 minutes, checking to ensure cake is cooked.
Let the cake cool in pan for 10 minutes, then invert on a wire rack and cool completely.
Lightly sprinkle powdered sugar ontop of cooled cake and serve.