gailanng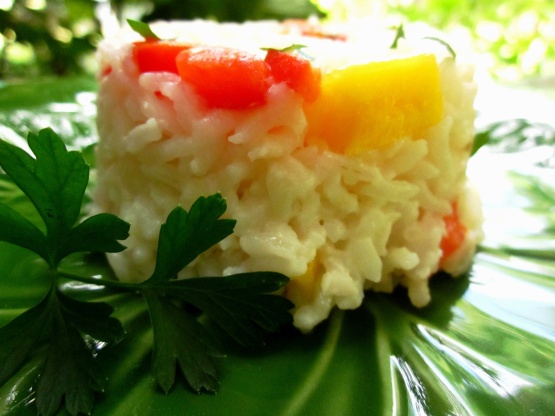 A fun Caribbean inspired recipe I found to post for ZWT3.

Great rice recipe! I wish my mango had been more flavourful - the ones you get here use to be quite watery, so mine didn't do the recipe justice. But it was delicious anyway, and I can imagine how fantastic it would be with a ripe, fragrant mango. I'll make this again :) Thanks for sharing!
Made for Cook-A-Thon for Mommy Diva February 2012.
In a large saucepan, melt butter over medium heat.
Add sweet onion, ginger and garlic, if using.
Cook until softened, about 5 minutes.
Add rice and stir until grains are coated with butter.
Shake can of coconut milk; add to rice along with water, salt and curry, if using.
Cover and bring mixture to a boil.
Stir and reduce heat to low; Simmer, covered, for 20 minutes.
Meanwhile, peel mango and slice into thin bite-size strips or chop, then place in a bowl.
Seed and chop pepper, slice green onions in half, lengthwise, then into 1-inch (2.5-cm) pieces; Add to mango and stir in lime juice.
After rice has cooked 20 minutes, stir in mango mixture.
Cover, remove from heat and let stand for 5 minutes to warm mango.
Serve scattered with coriander, if you wish.
A nice way to present this dish is to lightly pack rice mixture into a small rounded bowl or cup, then turn out onto a plate and top with coriander.
Enjoy! ;).