Coconut Lime Shrimp W/ Mango Jalapeno Dipping Sauce
Boomette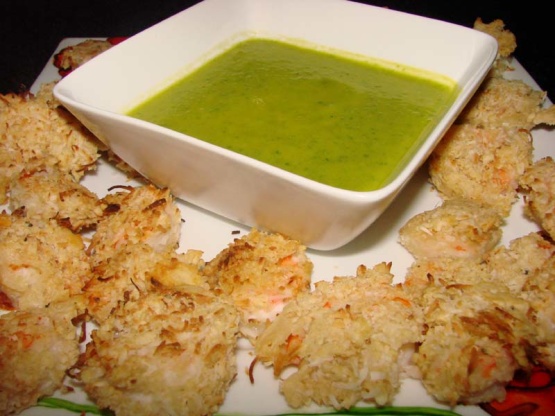 Recipe by chia
I was looking for recipes to use up the jalapeños I'm growing, plus the mangoes, shrimp, and limes that I had on hand. I found this one, hope you enjoy it as much as we did. We did fry them, but they can also be baked in a 475°F oven and still come out crispy.
Make the sauce first.
In a food processor or blender, mix all ingredients until blended.
For shrimp.
Crush Tortilla Chips until coarsely ground and mix with shredded coconut.you can use a processor if you have one.
Place mixture on plate and set aside.
In a bowl, whisk flour, beer and lime juice until blended and lump free.
Butterfly each shrimp by cutting down it's center.
In a skillet, heat canola oil.
Dip shrimp in beer batter and press each side in coconut mixture until heavily coated.
Place shrimp in hot oil and cook for 3-5 minutes on each side.
Cook in batches if the shrimp are very large.
Remove shrimp from oil and drain on paper towel to remove excess oil.
Or bake--.
Spray a pan with non stick spray, place in 475°F oven and bake for 6 minutes per side.
Fried or bakes, serve them with the mango jalapeño dipping sauce.