Nimz1466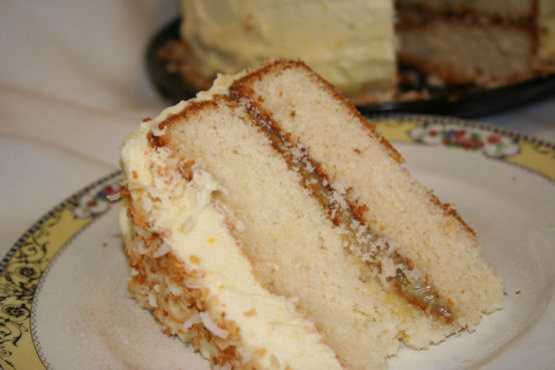 This is a coconut-flavored cake with a layer of lemon curd in the middle, topped with lemony whipped cream and coconut. YUM! I got this from my beloved "Moosewood Book of Desserts." It makes a really pretty cake!

What a great treat for someone that doesn't do a lot of desserts. I loved the coconut milk in this and the nice flavor it gave the cake and the lemon curd was excellent. Not to sweet and not too tart. I did have some problems with the middle lemon curd oozing out when I layed the second layer on top but I blame that on my inexperience in baking cakes. Thanks Aunt Cookie for a great cake recipe.
Preheat the oven to 350°F Butter and flour two 9-inch round cake pans.
With an electric mixer, cream the butter and 2 cups of sugar until light and fluffy.
In a separate bowl, mix together the coconut milk and vanilla. Add half of the milk mixture to the butter and sugar mixture and beat until well blended.
Into another bowl, sift together the flour, baking powder, and salt.
Add the sifted mixture to the butter mixture and stir well. Thoroughly mix in the remaining milk mixture. The batter will be very heavy.
Using an electric mixer with clean, dry beaters and a clean bowl, beat the egg whites until stiff peaks form. Fold the beaten whites into the batter until no trace of white remains.
Pour the batter into the prepared pans and bake until the tip of a knife inserted in the center of the cake comes out clean, about 40 minutes.
While the cake is baking, make the lemon curd. In the saucepan, whisk together the lemon peel, juice, sugar, and eggs.
On medium heat, cook the mixture, whisking constantly until the curd thickens, about 5-7 minutes. Remove from the heat.
For a perfectly smooth curd, pour the curd through a fine-mesh strainer to remove the lemon peel and any bits of egg (I always do this, because there are always little egg bits in the curd).
Whisk in the butter a little at a time.
Refrigerate the curd until well-chilled, about an hour.
When the cake is cooled, spread half of the lemon curd between the two layers.
Whip the cream until stiff and stir in the remaining lemon curd. Spread the whipped lemon cream over the cake and chill well.
Serve sprinkled with toasted coconut flakes.