mom2eaj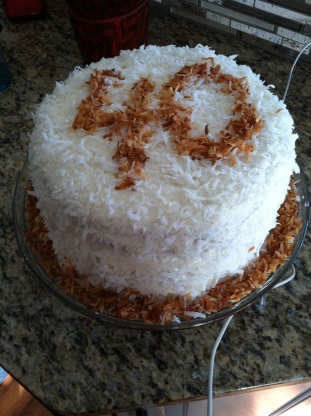 At Shubox Cafe, this dessert is known as Awesome Coconut Cake, aptly named by one of the cafe's best customers. To make this recipe, you'll need to buy one 15-ounce can of sweetened cream of coconut. Some of it is used in the cake; be sure to save the rest for the Cream Cheese Frosting(Cream Cheese Frosting). From Bon Appetit.

My husband always requests coconut cake for his birthday and I have tried many recipes and improvised a couple of my own. This one is a keeper and the one I will make again and again. The dense texture is exactly what he likes and works perfectly with the rich cream cheese frosting and coconut garnish. I did have a problem, though, with the pans overflowing. I used the size pans described, but the pans still ran over and I had to bake an extra 5 or so minutes. I will make 3 or 4 cupcakes the next time to have less batter in the pans. Thanks for this wonderful recipe.
Preheat oven to 350°F.
Butter and flour two 9-inch-diameter cake pans with 2-inch-high sides.
Whisk flour, baking powder, baking soda and 1/2 teaspoon salt in medium bowl to blend.
Using electric mixer, beat sugar, butter and sweetened cream of coconut in large bowl until fluffy.
Beat in egg yolks and vanilla extract.
On low speed, beat in dry ingredients and then buttermilk, each just until blended.
Using clean dry beaters, beat egg whites with pinch of salt in another large bowl until stiff but not dry.
Fold beaten egg whites into batter.
Divide cake batter between prepared pans.
Bake cakes until tester inserted into center comes out clean, about 45 minutes.
Cool cakes in pans on rack 10 minutes.
Run small sharp knife around pan sides to loosen cakes.
Turn cakes out onto racks and cool completely.
Place 1 cake layer on cake plate.
Spread 1 cup Cream Cheese Frosting over cake layer.
Sprinkle 1 cup sweetened shredded coconut over.
Top with second cake layer.
Spread remaining frosting over top and sides of cake.
Sprinkle remaining coconut over cake, gently pressing into sides to adhere.
(Coconut Layer Cake can be prepared up to 1 day ahead. Cover with plastic wrap and refrigerate. Let stand at room temperature 2 hours before serving.)*Canned sweetened cream of coconut is available in the liquor section of most supermarkets nationwide.
Makes 10 servings.