Coconut Ice With Strawberries

Very cool and refreshing. Perfect summer dessert. You may use zest of 1 lime instead of lime leaves.
Directions
Mix the coconut milk with water, sugar and lime leaves or zest in a saucepan.
Bring to boil giving it a good stir and immediately remove from heat.
Remove the lime leaves and pour the coconut milk into a container and freeze it.
When ready to serve, mix the sliced strawberries with the lemon juice.
To serve, in a cocktail glass, add a layer of strawberries.
Shave the coconut ice with a spoon and put the shavings onto the strawberries.
Garnish with mint.
Most Helpful
Fabulous, light summer dessert! I used lime zest in place of lime leaves, and strained it out before freezing. The flavor of the zest accented but did not overpower the coconut, this was awesome. DD loved it, she ate two bowls by herself. I think I'll try making these into popsicles for the kids this summer! Cocnut pops with strawberry chunks... mmmmmmm.

This is a very unique and flavorful dessert. I added some shredded coconut to the icee for added flavor, and used lemon zest in lieu of the lime leaves (I have no clue where to find those). As you eat it, the coconut ice melts into the strawberries, and it becomes a very creamy delight. This is an easy and elegant dessert that is definitely company worthy. :)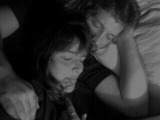 This is absolutely delicious! The coconut flavor is not overly strong and together with the lemon zest (which I used instead of lime leaves, sadly unavailable in this country) it was one of the best flavor combos I've tasted in a while. I made this for dessert on a hot Saturday and it was extremely refreshing. I'm going to make it again for this weekend, but I think I'm going to add about 1/4 cup of coconut liqueur as well for a little extra mmmmmmmmmmmm!