Coconut Ice - No Cook Easy Version
dizzydi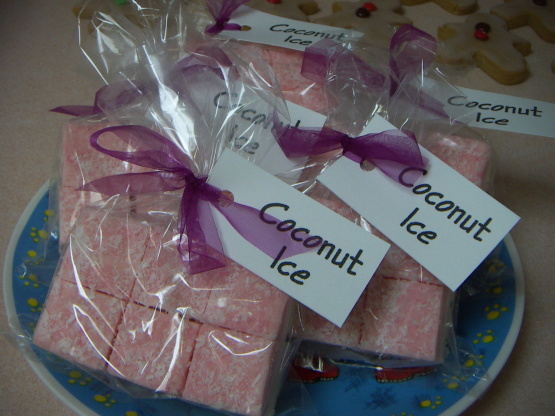 From The Complete Home Confectioner by Hilary Walden, very easy recipe producing coconuty somewhat like fudge, thick & solid yet creamy candy. The cooking time is an estimated "setting" time for the mixture once it's in the pan.

I've just made these. Fantastically easy. My tin was a little bigger so I made double the amount but made it in 2 batches. The pink layer is easiest to colour if you colour the condensed milk before adding it to the dry mixture - you get a more even colour.
150

ml sweetened condensed milk

250

g icing sugar, sieved (powdered or confectioner's sugar)

175

g desiccated coconut (a kind of very fine grate very dry shelf-stable coconut)

2 -5

drops red food coloring or 2 -5 drops pink food coloring
Using extra icing sugar, dust a square pan (pan size will determine thickness).
Mix the condensed milk, icing sugar and coconut together in a large bowl until it's fully mixed and stiff.
Divide in half and tint one half of the mixture pink with the food colouring.
Press one mixture into the pan gently then top and press with the other mixture.
Leave to set then cut into cubes or fingers with an oiled knife.
To store: wrap or layer with waxed or greaseproof paper and store in an airtight container.