Coconut Ice Cream Sundaes
CIndytc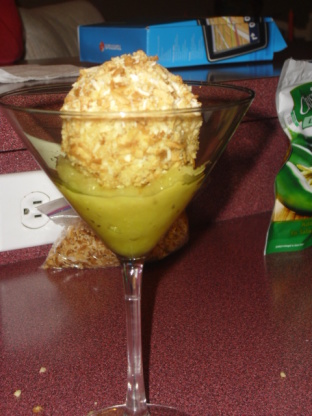 I got this recipe out of Cuisine Tonight Menus Cookbook...I made for a dinner party I was having and they turned out perfect...A great dessert to serve your guest if you want to have a great WoW factor without much of a fuss... Cooking time is freezing time.
Make pineapple sauce:.
Stire pineapple and sugar together in a saucepan; cook over high heat 15 minutes, or until most of the liquid has evaporated. Turn off heat stir in lime juice. Cool.
Sundaes:.
Preheat oven to 375 degrees.
Toast coconut and macademia nuts on a baking sheet until light golden, 12 - 14 minutes, stirring occasionally.
Transfer to a shallow dish to cool.
Shape ice cream into four 1 cup balls, roll in coconut mixture, and arrange on a parchment-lined baking sheet. Freeze until firm, about 3 hours. To serve, soften coated ice cream ball for 5 minutes at room temperature. Divide Pineapple SAue amoung 4 bowls or martini glasses and top with an ice cream ball.
Serve.