Coasty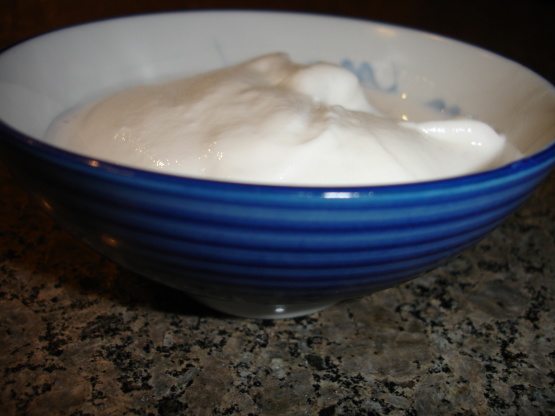 I scream, you scream, we all scream for ice cream! (especially me for coconut ice cream!) I love using coconut cream powder as opposed to canned coconut milk. The ingredients are: natural coconut. It's not full of preservatives like the canned milk, and I think it has a fresher taste. I like how easily you can make milk or cream- depending on the powder to water ratio. You could of course, use canned coconut milk in this recipe if you want to, and of course fresh would be great! Note: Cooking time does not include freezing time since that might vary.

Top Review by Coasty
I found this ice cream too rich on my first attempt. I made it again but reduced the coconut cream powder by a 1/3 and also found a low fat version. It has a most luscious sheen which I don't think my photo shows. I served a small portion with a banana bread and butter pudding the other night - a very good combination.
Mix the coconut cream powder and the warm water together. Spoon a bit of the liquid into the cornstarch to liquefy, and then add back into the coconut milk mix. Add sugar and salt and bring to a boil. If lumps form for any reason, strain them out. Cool mixture and use in your ice cream maker.
Delicious!
You can also do the poor man's freeze ice cream where you freeze, scrape, freeze, scrape like granita but the texture is not going to be as nice as the ice cream machine.
If your ice cream maker only makes a quart at at a time then just double the recipe.