KGCOOK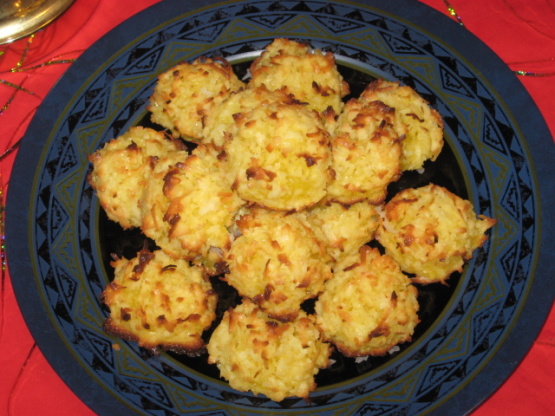 I hadn't had these in years until a friend of mine gave this to me. It's a pretty old recipe and you just don't see it much in cook books any more. They are super easy to make and so good to eat.
I have not had these for years, at first I didn't know what they were or what they tasted like until my ex mother in law made them one day, I have just found the recipe for these online, I will be definitely be making them for myself and my son
Heat oven to 400 degrees.
Mix sugar with salt.
Mix sugar mixture with coconut.
Mix in eggs.
Butter one large cookie sheet.
Drop by tablespoonfuls on cookie sheet and shape like small haystacks.
Bake at 400 degrees for 15 minutes.
Cool 5 minutes then remove from sheet.
NOTE:.
Before adding any spices to this recipe, if you have never had these before, you should make them plain like the recipe is first then decide if you want to add any thing else. We like them the way they are.
You may be surprised at the flavor as they are.
Recipe does not include cooling time.