Coconut-Grilled Pineapple
Prep 10 mins
Cook 12 mins

A great side dish to chicken or fish. Also perfect as a dessert; feel free to add scoop of ice cream. I have actually cooked these on high heat in a frying pan with great results as well! Note that the calorie is less that what's posted, as you will not use up all of the milk or sugar. Recipe revised from How to Grill by Steven Raichlen.
Directions
Cut off the top and the bottom of the pineapple.
Stand pineapple up and cut off the skin, cutting downward in strips from top to bottom. Make sure you slice deep enough to remove the brown "eyes".
Place pineapple on it's side and cut crosswise into 1/2 inch thick slices (rounds). You will get between 8 and 12 rounds from a pineapple, depending on it's size.
Using a melon baller, remove the fibrous core from the center of each slice.
Shake the coconut milk can well, then pour into a wide, shallow bowl.
Place the sugar and cinnamon in another wides, shallow bowl. Stir to mix.
Preheat grill to high. Brush and oil the grill grate.
Dip each pineapple slice first into the coconut milk, then the sugar mixture, shaking off the excess between each dipping.
Arrange the slices on the hot grates and grill until nicely browned on both sides, about 4-6 minutes per side.
Transfer grilled fruit to a serving platter and garnish with mint leaves.
Serve hot or cold, with or without a scoop of ice cream.
Reviews
Most Helpful
I had never used turbinado sugar before and was pleasantly surprised. I loved it mixed with the cinnamon. The coconut milk flavor was very subtle but definitely there. Next time, I will serve these with vanilla ice cream! Made for ZWT7 for the Golden Gourmets.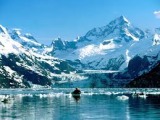 Made this as a side to African Style Grilled Peanut Butter Chicken 456733. This was a nice grilled pineapple recipe and everyone enjoyed it. I wished the coconut flavor was a little more pronounced, as we did not taste it as much. Made for ZWT 7

OUTSTANDING !!!! Made recipe as posted using granulated sugar. Made as side dish with dinner tonight. Definately could taste the coconut flavor.. Mmmmm. A definate keeper here, Made for Recipe Swap #42.