Rita1652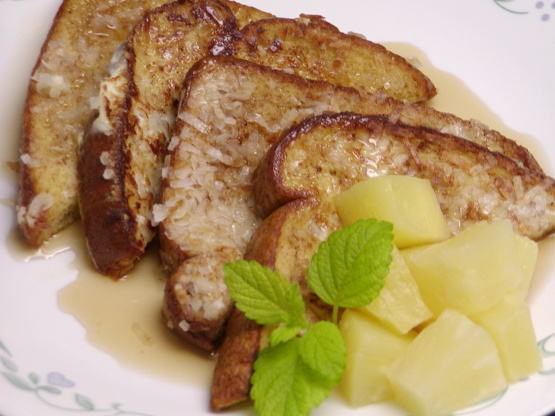 A sweet way to start your day. Ready in 10 minutes, you'll be able to spend your morning relaxing instead of slaving in the kitchen! Would make a nice addition to your next brunch !

French toast is my favorite breakfast. And this French toast tops them all. I made it for myself so I used 1 egg a splash of milk, a touch of cinnamon and sugar. Used enough coconut to coat the bread. I pan fried the toast in a dab of butter and garnished with a sprig of mint and pineapple chunks. This was fabulous!!!!!
In large bowl, beat eggs, then add milk, sugar and cinnamon.
Add bread, a few slices at a time, and let soak for 1 minute.
Remove bread, and coat both sides with coconut.
Place on parchment lined baking sheet and bake at 475 degrees for 5 minute on each side (10 minutes total).
Serve warm with maple syrup.