LolaRuns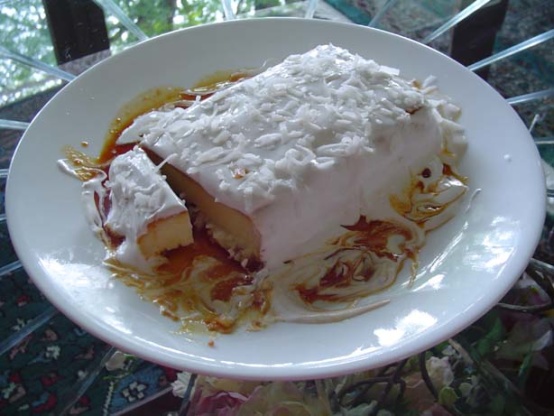 One of the things I really miss about eating at my mother-in-law's house! The perfect ending to any meal. Light and satisfying.
A very smooth and satisfying dessert. Just a word from the wise...be VERY careful with the caramel. I forgot how hot caramel can get and got some stuck to the end of my thumb. I had to sleep with my hand in a cup of ice! Of course, silly me stuck my thumb in my mouth to get the caramel off and burned the roof of my mouth too! Anyway, you KNOW this recipe has to be good if it caused that much pain and I STILL gave it 5 stars! :o)
Over medium-low heat, melt sugar until it caramelizes.
Pour the caramel into a flan dish to coat bottom.
Beat eggs until foamy.
Add sweetened condensed milk, then milk, and finally the coconut and vanilla.
Mix well with each addition.
Pour mixture into flan dish.
Place flan dish into an oven-proof dish, and add water (enough to come up to the top 1/3 of the flan dish).
Bake at 325ºF for approximately 1 hour, or until a knife inserted in center comes out clean.
Allow to cool, and refrigerate.
Serve cold with fresh whipped cream.
May be refrigerated up to 3 days.