Mami J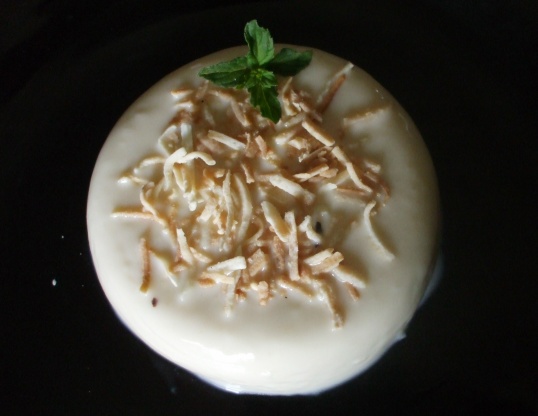 I found this while looking for a lite desert that I can eat.This is from a magazine from a few years ago. Time does not include the chilling time of 3 hours.

Top Review by Mami J
This was a great dessert. I didn't think that just infusing the toasted coconut would give it so much flavor! To toast the coconut I just used a nonstick skillet on the stove top, it was faster and didn't use as much gas :) Also used half heavy cream and half milk for the half and half as that's what I had on hand. Thank you for posting! Made for the Dining Daredevils & ZWT 5.
Preheat oven to 350.Spread coconut in a single layer on a baking sheet. Toast in oven for 8-10 min until lightly brown. Set aside 2 tbsp for garnish.
In a small pot over medium heat cook milk,sugar stirring often until sugar dissolves and mixture begins to bubble around the edges.
Remove from heat and add the coconut, stir. Cover tightly and let stand 15 minutes.
In a large bowl sprinkle gelatin over a 1/4 cup of cold water. Let soften this will take about 5 minutes.
Strain warm coconut mixture through a fine mesh sieve into gelatin mixture. Whisk until gelatin dissolves then whisk in the half and half, salt and vanilla.
Divide into 4 ramekins and refrigerate until set, 3 hours. When ready , unmold and sprinkle the reserved coconut on top.
212 calories per serving.