BecR2400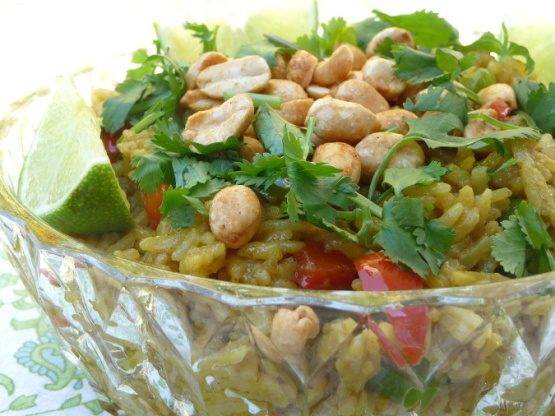 Fragrant yellow rice with a touch of curry and spices, cooked in coconut milk and topped with roasted peanuts and fresh coriander (cilantro). Scrumptious! Serve hot or at room temperature, on it's own or as a side to satay chicken or vegetarian cuisine. Inspired by a Zatarain's recipe. Note: This is not an overly hot and spicy dish, as written, but very delicious. We like it light to medium spicy so the other ingredients' delicate flavors aren't lost in the heat; it's just a matter of taste. If you like more heat and spice, adjust the seasonings as needed (you can use hot madras curry, and hot peppers for the mild ones). Enjoy!

i enjoyed the creaminess of this rice dish, and the special touch of the peanuts. The only thing I would have done is to have increased the spiciness a little. I am always light handed on Indian Spices, but even I thought this needed a little more. I served with curry chicken and spinach.
Melt butter in medium saucepan on medium heat. Add curry powder and sugar; cook and stir 30 seconds.
Pour water and coconut milk into saucepan. Bring to boil. Stir in rice, turmeric, garlic, onion, chicken base (or salt), and molasses; return to boil.
Reduce heat to low; cover and simmer 15-20 minutes or until rice is tender (add diced red and green bell pepper the last 5 minutes of cooking).
Remove from heat. Let stand 5 minutes, then fluff rice with a fork and serve topped with roast peanuts, snipped coriander, and fresh lime wedges.
May be served hot or at room temperature.